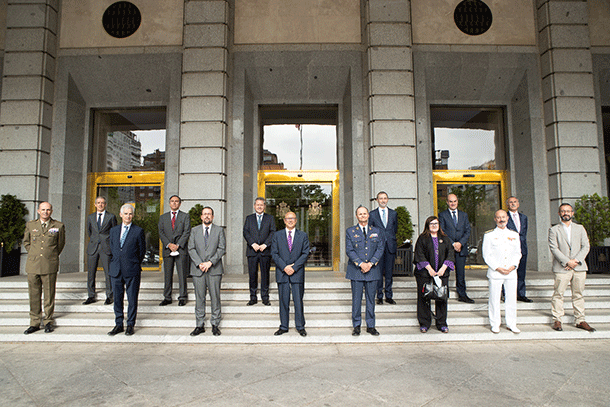 On 16 June GMV took part in the signing of the General Action Protocol between the Ministry of Defense and the companies delegated to lead the various technology pillars of the Next Generation Weapon System (NGWS) project, included within the concept of the Future Combat Air System (FCAS), doing so as co-leader in Spain of the remote operators technology pillar.
The remote operators technology pillar focuses on the development of new technologies and assessment of new concepts, doing so in coordination with NGWS/FCAS's new manned combat aircraft, based on a set of unmanned vehicles, some of them with ISTAR observation capability.
The General Action Protocol lays down the necessary protection mechanisms of the industrial capabilities and assets of the participating firms, or those of any of their investee firms whose corporate purpose is linked to defense and impinges on Spain's essential security interests.
This project will generate a rich store of knowledge and benefits for Spanish firms, giving them the chance to develop cutting-edge products in both the civil and military spheres. It also ensures a maximum program return for Spain's industry and sovereignty over the technology developed by its firms.
The ceremony, presided over by the Secretary of State for Defense, Ángel Olivares, was attended by the Airforce Chief of Staff, General Javier Salto; the President of the State Society of Industrial Participations (Sociedad Estatal de Participaciones Industriales: SEPI), Bartolomé Lora Tora; the Secretary General for Industry and SMEs, Raúl Blanco Díaz and the Secretary General for Innovation of the Ministry of Science and Innovation, Teresa Riesgo Alcaide. For GMV the document was rubber stamped by Jesús B. Serrano, its CEO.
The signing of this Protocol with the Ministry of Defense represents a new step forward in the implementation of Spain's industrial NGWS/FCAS strategy, aiming at becoming a full member bearing the same weight as Germany and France.
Sector