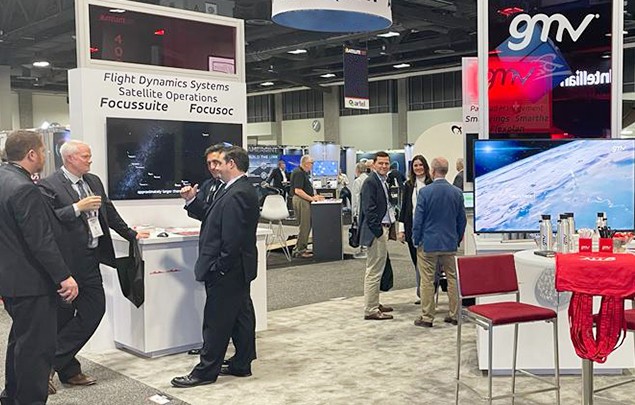 Satellite, the world's premier satellite communications event, has once again brought together representatives from business, government, and commercial customers in Washington, D.C., to discuss the next steps in the satellite industry. GMV formed part of the exhibitor program of this meeting, which brought together over 300 exhibitors and over 260 speakers, including the most notable professionals in the space market.
Today, sectors such as telecommunications, finance, transportation, and even the consumer industry, among others, depend on the satellite industry. Satellite 2022 hosts the most pioneering solutions in the market aimed at responding to challenges such as reducing the digital divide or boosting access to space, fostering leadership and innovation, and collaborating in the development of industry policies, among others.
GMV had a stand where it presented its complete line of operational solutions in the space mission ground segment, including Hifly (satellite control), Focussuite (orbit control), Closeap/Focusoc (collision risk management and associated services), Flexplan (satellite resource planning system), Magnet (tracking and receiving station control), Smartrings (configuration management), and Smarthz (payload optimization); in addition to the services required for network security (cybersecurity) and vulnerability analysis.
Satellite 2022 is a unique setting to showcase on-site products, with real-time demonstrations, to both current and potential customers, identifying new needs in the space industry. It is also a unique opportunity to network and share advances in the sector.
Sector
Not show on Home
Inactiu