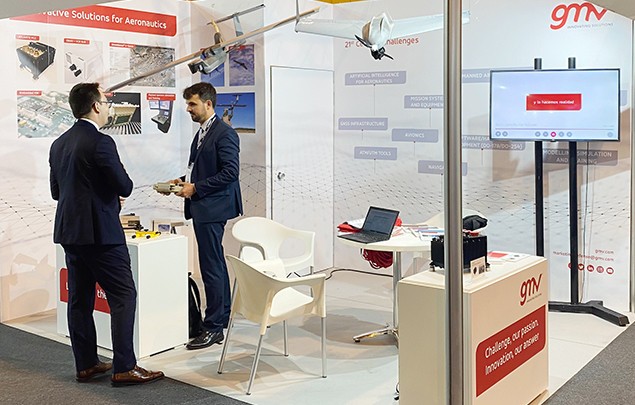 UNVEX, an event focusing on remotely piloted systems, was held for the seventh time this year from 14 to 16 September at the fairgrounds in Seville. GMV took part as an exhibitor in this three-day event, which featured conferences, exhibitions and demonstrations, bringing together the leading stakeholders in these systems, whether for use in the air (remotely piloted aircraft systems: RPAS), on land (unmanned ground vehicles: UGV) or in maritime areas (unmanned surface vehicles: USV; and unmanned underwater vehicles: UUV).
UNVEX'22 was an opportunity to gather and paint a comprehensive picture of the latest technologies, the creation of steady demand, and investment in the drone sector. GMV presented its aeronautical solutions, notably its developments in intelligence, surveillance, and reconnaissance (ISR) systems, as well as the unmanned platforms SEEKER, PASSER, and SOLO designed and developed by GMV and Aurea Avionics.
One of the highlights of the event was EURODRONE, a program in which GMV plays an important role thanks to a contract to supply the ground-based flight control computer.
It also exhibited its CSD-SIERRA and IRIS systems, designed for the exploitation and distribution of data from remotely piloted systems for the sake of joint intelligence, surveillance, and reconnaissance (JISR). The CSD-SIERRA solution is part of the SAPIIEM system developed for NATO. Meanwhile, IRIS is integrated and operational in the RAPAZ program run by the Spanish Ministry of Defense's Directorate General of Weapons and Material.
UNVEX is a biennial event organized by IDS with the support of Spain's Ministry of Defense and Ministry of the Interior.
Sector
Not show on Home
Inactiu