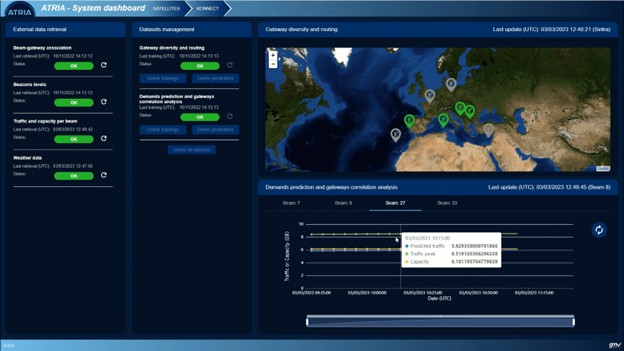 In recent years we have seen a revolution in the SATCOM market. This is mainly due to the rapid development of software-defined or even all-digital payloads. These modern satellites make it possible to deliver new services, while at the same time creating new, previously unimagined needs. The revolution has begun. Traditional payloads – i.e. ad hoc hardware designed for a specific mission – are now a thing of the past. The present is all about generic solutions that can meet dynamic demands, drawing on their reconfigurable, software-based counterparts.
The turning point in the history of commercial SATCOM came in 2021, when the operator Eutelsat launched the Eutelsat Quantum satellite. Quantum was the first commercial satellite to be fully software-controlled, putting payload control in the hands of the end user. Payload-as-a-Service was then introduced as a new revolutionary concept. Building on this success, Eutelsat continues to add new satellites to its fleet, boarding them with state-of-the-art flexible payloads.
These payload advancements have two major implications. First, they give the operator an almost infinite number of options for reconfiguration. Second, the difficult management of such complex payloads will affect how operators have handled them until now.
Dynamic demand, resilient systems, real-time, multi-mission, 5G/6G... How can operators manage these complex systems in such a changing environment? Without a doubt, artificial intelligence (AI) and machine learning (ML) are our best allies.
In this line, the ATRIA project aims to apply AI/ML techniques to relevant SATCOM use cases selected by Eutelsat's experienced operators in order to facilitate and eventually automate their operations. To this end, GMV – in the role of consortium coordinator and system integrator – has developed a system prototype called AI-PCS. Among other things, AI-PCS integrates the AI/ML modules developed by CTTC and AIKO, the consortium's AI experts.
The first use case to be tackled was the gateway diversity problem. AI-PCS was trained to predict when it would be necessary to perform a switch operation between nominal and redundant gateways to minimize downtime. To do this, the AI/ML modules integrated into AI-PCS are able to analyze the correlation between the amount of rainfall and the beacon signal levels at the gateway locations. Using the weather forecast as input, AI-PCS can then predict in real time whether a switch operation is needed.
A second use case focuses on beams. In this case, the AI/ML modules are trained with per-beam traffic and capacity data from previously provided services. This is useful when it comes to predicting per-beam traffic congestion and subsequently alerting the operator.
The AI-PCS system was validated in an operational environment using real-time data from the operator's data lakes (Skylogic) and weather forecasts from third-party systems. The AI/ML modules provided real-time results that were presented on the various AI-PCS displays for easy interpretation by the operator. AI-PCS was also equipped with an alarm system that beeps if any of the use cases yields a result that may require operator intervention.
These successful results during the on-site acceptance test (OSAT), which took place in March 2023, have given a major boost to the development of phase two of the project. This phase will support new use cases and the integration of additional developments from the other consortium partners.
Author: Leticia Alonso
Not show on Home
Inactiu